Diversity-Informed Tenets
Advancing diversity, equity and inclusion requires continual reflection, dialogue and intentional action. The Irving Harris Foundation is pleased to be one of the many important voices in this effort.
The Diversity-Informed Tenets for Work With Infants, Children and Families are a set of guiding principles and practices that strengthen the commitment and capacity of infant, child and family professionals, organizations and systems to embed diversity, inclusion and equity principles into their work. Rooted in self-reflection, the Tenets are a navigational tool for systems change. The Tenets are a response to the persistent and urgent need to expand our professional capacity and deepen our work with families by increasing awareness and developing intentional action for individual, organizational and systemic change.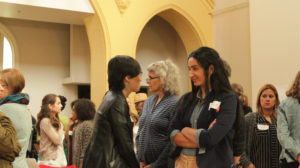 The Tenets are disseminated via its website, conference sessions and workshops. Thus far, we have reached more than 10,000 professionals since our launch!
The Tenets were co-developed by Foundation staff and an Expert Panel of the Foundation's Professional Development Network, an international network of grantees working to change the landscape of services for pregnant women, children ages birth to three and their families. Each of the ten Tenets is informed by research and evidence, as well as the extensive collective experience of Expert Panel members – the multitude of families they have served and the systems in which they work.
The Irving Harris Foundation has had a long commitment to strengthening diversity, equity and inclusion in the infant and early childhood mental health field. With strategic grantmaking dollars, the Harris Professional Development Network has been at the forefront of increasing diversity, embedding inclusive practices and striving toward equity in all infant and early childhood mental health work.
For more information, please visit: DiversityInformedTenets.org