Special Initiatives
The Harris Professional Development Network (PDN) is a network of 19 Irving Harris Foundation grantees led by infant and early childhood mental health (IECMH) and child trauma experts coming from 12 states, DC, and Israel. The experts contribute to their respective communities by training the early childhood mental health workforce and contributing to the integration of mental health and child trauma principles into services and systems that serve pregnant women and very young children. The network includes various types of institutions that offer pre- and post-doc fellowships in infant and early childhood mental health, specialized MA and BA programs, certificates and professional development opportunities along the care continuum from promotion to treatment. All have in common their passion for supporting young children's social and emotional well-being, which means allowing very young children to:
Form close, responsive and secure relationships with adults and peers
Experience, manage and express a full range of emotions
Explore their environment and learn in the context of their family, community and cultural expectations
In addition to training the infant and early childhood mental health workforce, many PDN grantees have developed and replicated evidence-based models and programs that are at the forefront of the IECMH field, including: Child-Parent Psychotherapy, Fussy Baby Network, Minding the Baby, Healthy Steps, Project Dulce, Mom2Mom, Safe Babies Court Teams, and Mental Health Consultation.
The History of the PDN
In 1994 Irving Harris wrote to a small group of leaders and experts in the nascent field of infant and early childhood mental health and trauma. He asked for big ideas that could transform the lives of young children and their families. He suggested focusing on their social-emotional well-being and reduction of the prevalence and impact of trauma. Irving emphasized leadership development as a strategy to build the infrastructure of the infant mental health field. The leaders selected and their innovative ideas became the base for what is now the PDN. For more than 23 years, the PDN and its members have played a leading role in improving mental health and related services for very young children across the U.S. and in Israel.
For over two decades the members of the PDN have been dedicated to training providers, transforming child and family serving systems, and informing and influencing policy. As the recent tragic situation unfolded with young immigrant children being separated from their families at the border, the PDN's collective voice is important and meaningful to advancing change and activating the field. As such, the Foundation in partnership with our PDN colleagues has prepared a statement on the current situation to join the voices taking a stand on behalf of young immigrant children and their families. We hope you join with us and encourage you to disseminate the message throughout your networks and to push for change to policy whenever and wherever possible.
PDN Statement on Child Separation
Diversity-Informed Tenets for Work with infants, children and families
With the Tenets in our mind and heart, we commit to re-building and re-imagining this world from an understanding of intertwined fates — that it is only when every Black life matters, is protected, and has liberation that we can truly have the highest possible standard of equity, inclusivity, and justice for all. Read more here.
The Diversity-Informed Tenets for Work With Infants, Children and Families are a set of guiding principles and practices that strengthen the commitment and capacity of infant, child and family professionals, organizations and systems to embed diversity, inclusion and equity principles into their work. Rooted in self-reflection, the Tenets are a navigational tool for systems change. The Tenets are a response to the persistent and urgent need to expand our professional capacity and deepen our work with families by increasing awareness and developing intentional action for individual, organizational and systemic change.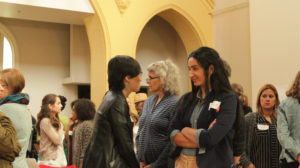 The Tenets are disseminated via its website, conference sessions and workshops. Thus far, we have reached more than 10,000 professionals since our launch!
The Tenets were co-developed by Foundation staff and an Expert Panel of the Foundation's Professional Development Network, an international network of grantees working to change the landscape of services for pregnant women, children ages birth to three and their families. Each of the ten Tenets is informed by research and evidence, as well as the extensive collective experience of Expert Panel members – the multitude of families they have served and the systems in which they work.
The Irving Harris Foundation has had a long commitment to strengthening diversity, equity and inclusion in the infant and early childhood mental health field. With strategic grantmaking dollars, the Harris Professional Development Network has been at the forefront of increasing diversity, embedding inclusive practices and striving toward equity in all infant and early childhood mental health work.
For more information, please visit: DiversityInformedTenets.org
.
The Harris School of Public Policy
The University of Chicago Harris School of Public Policy trains the next generation of leaders to become agents of change on a range of issues, including economic inequality, urban development, international policy and child and family policy.  In the mid-1970s, Irving Harris led an effort to transform the University of Chicago's Committee on Public Policy into a world class graduate school because he understood that deeply rooted societal issues could only be solved through effective policy and informed action. Through engaged partnership, core endowment funding and strategic grants to support faculty development and excellence scholarships, Irving helped ensure the vitality and relevance of the school.
In 1999, Irving initiated and endowed the Harris School's Center for Human Potential and Public Policy to help the school become a leader in policy work related to young children. The focus of the Center is on integrating research and policy change to improve the health, welfare and development of children and their families. More recently, in 2015 the Harris School received a $100 million gift from The Pearson Family Foundation to establish The Pearson Institute for the Study and Resolution of Global Conflicts and The Pearson Global Forum, further broadening and deepening the Harris School's expertise and offerings.
More than 2000 students have graduated since its first degrees were awarded in 1977, and there are currently more than 375 students enrolled in Harris School degree programs. The training and education they receive helps them make an impact on the problems facing people and institutions around the globe. Beginning in Fall 2018, Harris School students will have a new home at the Keller Center, which is currently undergoing renovations to become a first class, 21st century center for learning.